The paintings are extremely well done. Also, they go together well. They look better than the originals. On my next order, I'd like the same artist to paint it. Thanks"
D.G.
Saturday, September 14, 2019
The painting looks fine and like the original. Please send it as is, it looks as good as the original. How do you do such as good a job?
John
Wednesday, September 11, 2019
It's beautiful. Thanks for everything
S.N.
Tuesday, September 10, 2019
HI JAMES, THE PAINTING HAS ARRIVED. WE ARE VERY HAPPY WITH IT. THANK YOU VERY MUCH. REGARDS
Peter
Thursday, September 5, 2019
I have received the painting and am very pleased. Many thanks for your professional service.
A.S.
Monday, September 2, 2019
The color and composition look marvelous. Thanks. Can't wait to get it.
K.P.
Thursday, August 22, 2019
Dear James and Cory, The painting arrived while I was at work. The email from my wife uses the words BEAUTIFUL, STUNNED, and GORGEOUS. Everything about this transaction was perfect: your superb web site, the level of customer care from both of you, and the end result. Please accept our very sincere and grateful thanks, and pass our admiration on to your very gifted artist. Best regards,
Nick Cory
Friday, August 9, 2019
so so sorry it took me so long to get back to you….I am more than pleased with the rendition that Howard painted….I was in tears at how beautiful it was…..a fantastic job….and it was here in 3 days , which was unbelievable…..I also have to tell you that the person I gave it to as a gift was blown away…..In the first place she was expecting a pringt….so when she saw the painting she nearly fainted…..Thank you so so much for the wonderful quality of the product and the fast ,compassionate responses…..I have recommended this site to many friends…and hope to use it again myself……Once again we are more than pleased…..Thanks so much for everything and for including the card with signature…… Sincerely…
Debbie
Sunday, August 4, 2019
Thank you for sending the copies of your painting. It is a remarkable feat, you have a true talent!
Y.G.
Thursday, August 1, 2019
James, paintings arrived safe and sound. i've been told they look great! i won't get to see them until early August. can't wait. thank you
Diane
Sunday, July 28, 2019
My husband liked your painting!. It`s a gift from me, made by you! Thank you very much! Your sincerely
Eva Linnea Hedberg
Wednesday, July 24, 2019
It is absolutely beautiful! We just love it. As you may recall, it was a gift for my husband and he is thrilled with it. The artist did an unbelievable job, please extend our compliments and thanks to him or her. I'm sure we will be in touch again.
B.M.
Monday, July 15, 2019
Just a short note to thank you for my painting (Van Gogh : Wheat field with crows). it is perfect.
D.K.
Thursday, July 11, 2019
A thousand thank yous for our beautiful Ocean's Bridge original artwork! We appreciate you masterfully sharing your expertise with us throughout the process- from suggesting we use a photo of our actual wedding venue to utilizing a more impressionistic style. We absolutely adore the painting!
With gratitude,
Darren and Patti
Patricia Levine
Thursday, January 10, 2019
Again, I can't thank you enough- your customer service is outstanding, and I will DEFINATELY buy from you guys again should the need arise, not to mention tell everyone I know about your website and how helpful you were, and how reasonable your prices are. Thank you again, I truly appreciate it.
LD
Monday, July 8, 2019
i picked up the picture yesterday…it is perfect, thankyou!!! As soon as we get it mounted and framed I will send you pictures. Thank you!
M.P.
Friday, July 5, 2019
When I ordered a reproduction of Charles Sheeler's "Feline Felicity" I had several concerns as the original is not a painting,; but rather a pencil drawing on paper. Mr. Skidmore assured me that he was confident that the original could be translated to oil paint. Additionally, he reminded me of the company's 100% satisfaction guarantee.. The original work is done only in shades of black,, gray and white which, amazingly, manage to convey the textures of wood, concrete, fur and wicker. Ocean'sBridge reproduction is 500% as expert!
I cannot express how pleased I am with the finished oil painting. Additionally, the customer service/seller contact, professionalism and careful shipping and handling were A++. I am certain that Sheeler, himself, would be more than pleased with OceanBridge's excellent caring, understanding, appreciation and respect given his work.
I very highly, without any reservations, recommend Ocean'sBidge to anyone desiring to own. "masterpiece" of their own.
I would give them a ten stars rating [ ⭐️⭐️⭐️⭐️⭐️⭐️⭐️⭐️⭐️ ] if possible. Buy with confidence.
— Dr. Arnild B. Levine, Cortland, , New York, , USA.
Arnold B. Levine
Wednesday, November 7, 2018
I got the painting today and totally love it. Thank you so much. It looks great. Exactly what I expected. Thank you for everything.
N.M.
Monday, July 1, 2019
We received the painting today and we are absolutely thrilled with the result. The texture in it is amazing. Give my thanks to the artist. We will be in touch soon for our next painting.
G&M
Friday, June 21, 2019
I received the picture today and it looks great! Thanks so much.
D.D.
Tuesday, June 18, 2019
Cory,
All I can say is "wow"!
You guys don't disappoint.
I am doing a gallery style wall in my home.
More orders to follow this weekend
Thanks again for working with me.
Brian
Sunday, June 16, 2019
Dear James, Thank you for your message. Portrait of Gavril Golovkin looks great. For your information, this is one of my distant ancestors. I think we will work again with you with pleasure. Best regards,
G.F.T.
Friday, June 14, 2019
Wow! I am super happy – stunned – joyous with your work. Awesome job! Use that in a testimonial !!! It's very special, many thanks,…
Kurt T.
Wednesday, June 12, 2019
Cory and James Thank you both for the beautiful job that was done on "Charity" and "The Incredulity of St. Thomas"–top-notch work, indeed! I am going to be ordering another painting from you and will be in touch with you regarding it very soon. My wife and I are enjoying these lovely masterpieces in our home and look forward to the next one. The shipment went very smoothly with ABF Freight as well.
Joseph
Tuesday, June 11, 2019
Hi Cory, You have made me extremely happy. Many thanks.
John
Saturday, June 8, 2019
Just wanted to let you know that the painting arrived safely yesterday morning. It is being prepared for framing now ! Again, i am pleased with the painting and look forward to having it to enjoy each day again … My continued thanks and good wishes !!
S.T
Thursday, May 30, 2019
Thanks again guys,
The painting turned out great. It was a gift for my mother and she absolutley loved it. I'll be back.
Mary
Tuesday, May 28, 2019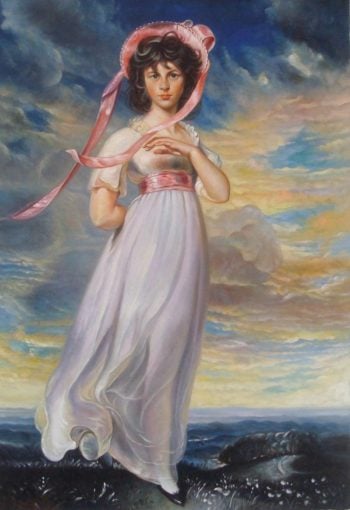 Got the painting yesterday …… I must say.. I was impressed. We are very happy with the final product. I immediately unrolled the painting, and thumb-tacked it into it's final spot on the wall…. it looked perfect. I hadn't told my wife that I had ordered it, so she was not only surprised, but also spent much of the evening compairing it to our picture of the original. See was also happy with the product. Please pass along our satisfaction to the artist.
M.B
Tuesday, May 14, 2019
Many thanks, and thanks for what looks to be a good painting and a good service from your company. Can't wait to get it mounted and on our wall!
Stephen
Saturday, May 11, 2019
Just wanted to thank you and the artist for my oil. It looks great!
J.R.
Wednesday, May 8, 2019