I took them immediately to the framers and now I have to impatiently wait until 11 December to see these masterpieces again . It will be well worth the additional wait as I look so forward to being able to enjoy these until I pass them on to the next generation …Again, I thank you and look forward to a continued association!
S.R.D.
Wednesday, November 27, 2019
We think the painting looks good. It appears to be just what we were hoping for. We appreciate that you have gotten at this in such a timely manner! Please go ahead and ship it to us. Thank You
W.&M.C.
Saturday, November 23, 2019
I got the painting day before yesterday while I was out of town on a business trip and am very, very pleased. It more than met my expectations
S.B
Thursday, November 7, 2019
Looks beautiful as always! I love it! Thanks again for the great work!
Vanessa
Tuesday, November 5, 2019
The painting looks great. The whole concept of you sending pictures, etc. seems to be a great way for us to understand what we will be getting. Additionally you are delivering within the times committed in your initial email. We are both really excited about having it in our home. Please send the painting to us in Omaha. Thanks,
N.R. and D.R
Monday, November 4, 2019
The painting arrived and I wanted to say thank you for your help. It is very nice, and I am pleased with it. I plan on paying you the highest compliment I can – I'll be ordering another painting. Thank you for you help.
Jim
Saturday, November 2, 2019
Hi Dan, I received the painting. It looks fantastic!! I can't wait to get it framed and up on my wall. The artist did a marvelous job, it looks better than the digital image from the website. I am so pleased. Thank you so much for helping me through the process. I will definitely be ordering again! Have a good weekend, Christina
Christina
Saturday, November 2, 2019
I just wanted you to know how much I liked the painting. It is quite well done and gives a great sense of the original. I shall be ordering another one shortly.
S.R.
Friday, November 1, 2019
I recieved my painting this evening, wow, it is beautiful. I know my Becky will just love it. I will send a picture once I have given it to Becky and we hang it up in a special place in her house. Thanks again,
J.G.
Wednesday, October 30, 2019
Painting received,and I am impressed,very good work!!! Compliment to the artist. Until the next painting. Rgds
BIll
Sunday, October 20, 2019
I AM THRILLED BEYOND BELIEF WITH THE PAINTING THEY SENT ME!! HAPPY TEARS / HAPPY DANCE!!!!
Rachel Toles
Friday, June 29, 2018
The paintings are extremely well done. Also, they go together well. They look better than the originals. On my next order, I'd like the same artist to paint it. Thanks"
D.G.
Saturday, September 14, 2019
The painting looks fine and like the original. Please send it as is, it looks as good as the original. How do you do such as good a job?
John
Wednesday, September 11, 2019
It's beautiful. Thanks for everything
S.N.
Tuesday, September 10, 2019
Charlie and his buddy look amazing. The painting really sums up how cute he is! Thank you for the amazing art.
Barrett Reynolds
Thursday, September 5, 2019
HI JAMES, THE PAINTING HAS ARRIVED. WE ARE VERY HAPPY WITH IT. THANK YOU VERY MUCH. REGARDS
Peter
Thursday, September 5, 2019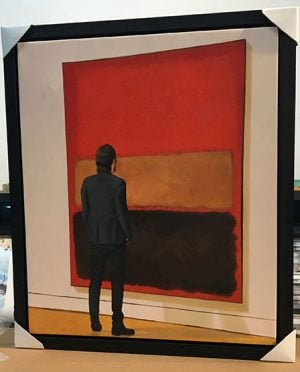 The framed Rothko painting turned out beautifully. It actually looks like someone is standing in the painting. I can't wait to hang it up and show it off. It will be the envy of the neighbours.
Bonnie Wallace
Wednesday, September 4, 2019
The painting arrived today and it is beautiful! We are all truly pleased with it and can't wait to have it framed and given to our former pastor for his new church.
C.M.
Tuesday, September 3, 2019
I have received the painting and am very pleased. Many thanks for your professional service.
A.S.
Monday, September 2, 2019
The color and composition look marvelous. Thanks. Can't wait to get it.
K.P.
Thursday, August 22, 2019
Dear James and Cory, The painting arrived while I was at work. The email from my wife uses the words BEAUTIFUL, STUNNED, and GORGEOUS. Everything about this transaction was perfect: your superb web site, the level of customer care from both of you, and the end result. Please accept our very sincere and grateful thanks, and pass our admiration on to your very gifted artist. Best regards,
Nick Cory
Friday, August 9, 2019
so so sorry it took me so long to get back to you….I am more than pleased with the rendition that Howard painted….I was in tears at how beautiful it was…..a fantastic job….and it was here in 3 days , which was unbelievable…..I also have to tell you that the person I gave it to as a gift was blown away…..In the first place she was expecting a pringt….so when she saw the painting she nearly fainted…..Thank you so so much for the wonderful quality of the product and the fast ,compassionate responses…..I have recommended this site to many friends…and hope to use it again myself……Once again we are more than pleased…..Thanks so much for everything and for including the card with signature…… Sincerely…
Debbie
Sunday, August 4, 2019
Thank you for sending the copies of your painting. It is a remarkable feat, you have a true talent!
Y.G.
Thursday, August 1, 2019
James, paintings arrived safe and sound. i've been told they look great! i won't get to see them until early August. can't wait. thank you
Diane
Sunday, July 28, 2019
My husband liked your painting!. It`s a gift from me, made by you! Thank you very much! Your sincerely
Eva Linnea Hedberg
Wednesday, July 24, 2019
It is absolutely beautiful! We just love it. As you may recall, it was a gift for my husband and he is thrilled with it. The artist did an unbelievable job, please extend our compliments and thanks to him or her. I'm sure we will be in touch again.
B.M.
Monday, July 15, 2019
Just a short note to thank you for my painting (Van Gogh : Wheat field with crows). it is perfect.
D.K.
Thursday, July 11, 2019
A thousand thank yous for our beautiful Ocean's Bridge original artwork! We appreciate you masterfully sharing your expertise with us throughout the process- from suggesting we use a photo of our actual wedding venue to utilizing a more impressionistic style. We absolutely adore the painting!
With gratitude,
Darren and Patti
Patricia Levine
Thursday, January 10, 2019
Again, I can't thank you enough- your customer service is outstanding, and I will DEFINATELY buy from you guys again should the need arise, not to mention tell everyone I know about your website and how helpful you were, and how reasonable your prices are. Thank you again, I truly appreciate it.
LD
Monday, July 8, 2019
i picked up the picture yesterday…it is perfect, thankyou!!! As soon as we get it mounted and framed I will send you pictures. Thank you!
M.P.
Friday, July 5, 2019